You can create a new ticket in Grispi through 3 different channels.
Create a ticket by email.
Fill out a manual ticket form via Grispi Support. (Web)
Create a ticket with incoming calls.
All of these communication options are called channels. You decide which channels you want to enable in your Grispi account and how your customers can reach you. All tickets from all channels become Grispi Tickets.
1. You can create automated tickets by email. When your customers send an e-mail to [email protected] automatically when you start using Grispi, your automatic registration is created through the system.
Your tickets opened automatically by e-mail will fall into the "Unassigned records" field.

2. You can create a ticket manually via the web. Click on the "+ Add" button on the homepage and click on the "Ticket" field in the window that opens.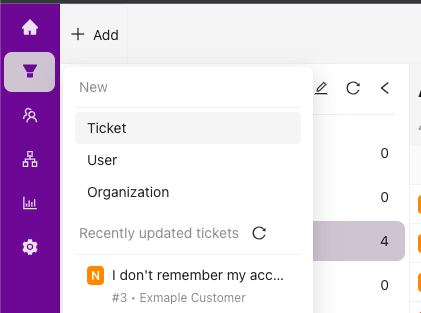 When you click on the Ticket field, a page like the one below will open in front of you. To create a ticket, you must fill in the following fields as mandatory.
Requester
Subject
Message
3. To create automatic tickets with incoming calls, you must first implement Grispi switchboard integration. After setting up the virtual switchboard, when you receive a call, if the user is registered with the phone information, the registration screen will automatically open in front of you. On this ticket screen, the requester section is automatically filled in, saving you time. If the search topic is related to the user's previous requests, you can merge the tickets. see also. Record Merge
If the search topic is a different subject, you can create it by filling in the content of the ticket.