1. When your ticket screen is open, you can easily see all the information it contains.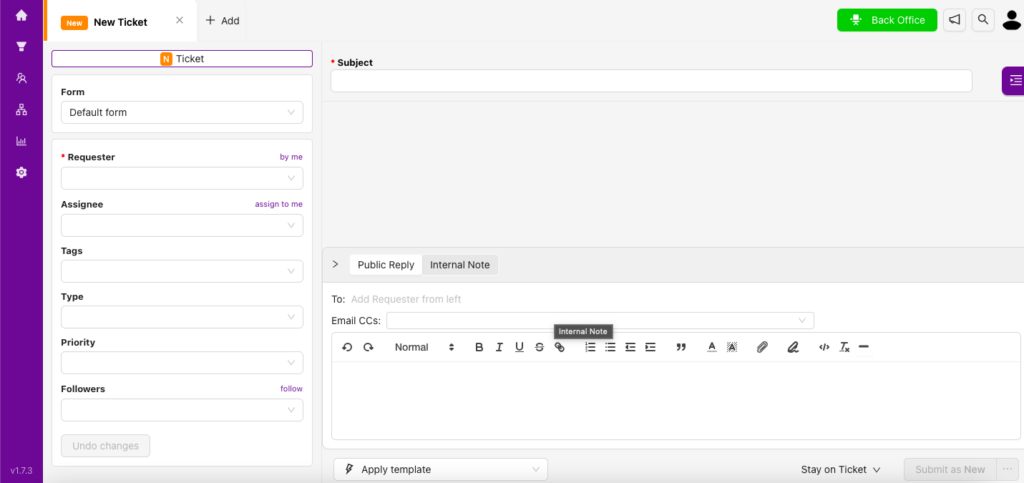 2. The ticket field properties contain the following information.
Form: Places that contain data fields that you can shape according to your organization's use. see also. How Can I Create a New Form (LINK)
Requester:The requester is the person on whose behalf you are creating the tickets. You can fill this field with the person's e-mail address. If it is a previously registered user, it will automatically be listed below when you type its name. If it is an unregistered user, you can create the user's registration in the system by clicking the add button when you type the e-mail address.
Assigned: All tickets need to be assigned to an agent or group to be resolved and closed. You can add the user to whom the ticket is related to the assigned field to close the ticket.
Tags You can use this field to track your tickets within your organization by tagging them.
Priority You can set the priority of your ticket as urgent, low, medium and high.
Followers If you want someone other than the assigned person to follow the ticket, you can add the other relevant agent in this field.
Undo changes: This button allows you to undo unsaved changes when you fill in the fields above.